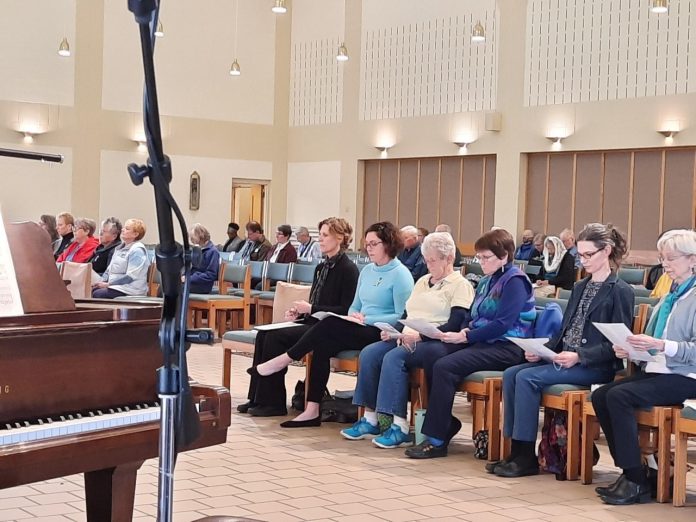 Local Catholics have opened their hearts and their wallets to help those suffering in Ukraine.
The Diocese of Altoona-Johnstown Missions Office is sending $116,069.76 to Catholic Relief Services to assist with humanitarian relief efforts in that troubled part of the world.
The total reflects multiple gifts made through collections at individual parishes and at the diocesan Mass celebrated by Bishop Mark on March 25 at the Cathedral of the Blessed Sacrament in Altoona. Many individuals also sent money directly to the Missions Office to support the cause.
Our Lady of Victory Parish in State College collected $20,526 – the largest total among any local Catholic faith community. Good Shepherd Parish in Port Matilda raised $14,417; Parishioners at Saint Benedict in Johnstown donated $9,232; Saint Matthew Parish in Tyrone and Saint John the Evangelist Parish in Bellefonte netted $7,384.35 and $7,098.24 respectively.
Catholic Relief Services, which carries out the commitment of the Bishops of the United States to assist the poor and vulnerable overseas, will use the money collected in Altoona-Johnstown to support its Ukrainian relief efforts, which include food distribution, transportation services, shelter and counseling services for displaced families, and evacuation of children from conflict areas to safe zones.  
Bishop Mark continues to encourage prayers among individuals and parish faith communities as the Russia-Ukraine conflict continues. He invites the faithful to pray the following ancient Marian prayer:
We fly to Your patronage, O Virgin Mother of God.
Despise not our prayers in our needs,
but deliver us from all dangers,
since you alone are pure and blessed.
O most glorious Ever-Virgin Mary,
the Mother of Christ our God, accept our prayers
and present them to Your Son and our God,
that for the sake of You, He enlighten and save our souls.
[Photo: Faithful gather earlier this spring for a prayer service for the people of Ukraine at Good Shepherd Parish in Port Matilda, one of many local signs of prayer and support for those suffering in that part of the world.]