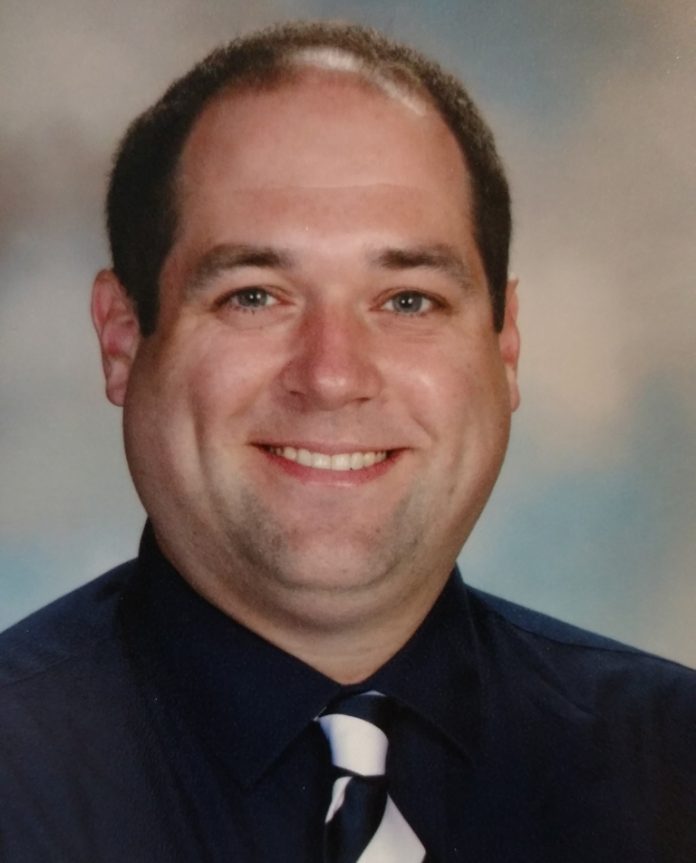 Column by Jonathan Nagy
Director of Admissions and Teacher at Bishop Carroll Catholic High School
Be strong and courageous.  Do not be afraid; do not be discouraged, for the Lord your God will be with you wherever you go. – Joshua 1:9
I have a confession to make.  I have a problem.  This may come as a shock to those of you who know me well.  Wait, nevermind, it won't. Ok, here goes.  I don't like to follow directions!  From a very young age, I never liked to follow directions.  When I would get a new Lego set, I would toss out the instructions and build what I wanted to build.  I was never fond of coloring books.  I liked to draw my own pictures.  Even while playing games in the backyard or in the swimming pool, my brother and I would make up the rules.
I still continue to do this!  Sometimes, when I am playing a song on the piano or the organ, I decide that I like my own note or a chord better than what is written.  In my classroom, I will find a way to teach something a little differently.  Even when I cook, I will adjust the recipe to fit my tastes.
I don't think this 'issue' is only a 'me-problem'.  I would bet that many others find themselves making things up as they go or putting their own mark on what they do.  That is not necessarily a bad thing!  Everyone has been given the opportunity to create their own path in life.  What happens if we get lost by following the directions we
have created?  There is always someone there to guide us.
From a young age, we always look to someone older and wiser to lead us and show us now to find the right path when our internal GPS is off.  There are times when I will look around in certain situations and think, "Who is in charge here?"  And then it dawns on me that, it's me!  It can be a very scary thought that we don't have anyone to turn to in times of trouble.  But we do, we always do, and that great mapmaker of our lives will always be there to guide us when we are lost.
Throughout Lent, I found myself reflecting on several aspects of Jesus' life.  He was a human, just like the rest of us.  He learned how to walk and talk from his mother.  He learned to be a carpenter from Joseph.  He learned to read the Scriptures from the rabbis.  However, who was there to lead Him and teach Him how to give His life for all of us?  Who was the adult in the situation?  He was, and He turned to our Heavenly Father for guidance in those last hours.
Many of the things that we do in life can be scary, although I can't think of anything as terrifying as being beaten and crucified as Jesus was.  I know that He went through the human emotions that we go through with fear, but in the end, Jesus still went through with it.  Why?  Because he knew it was the right thing to do and, in the end, with His faith, He knew that everything would turn out for the best.  And wow, was He right!
Even though we can receive teaching and guidance throughout our lives, the best training we can have is experience.  No amount of leadership can prepare each of us for what happens to us.  That can be scary. The uncertainty of what comes next in our lives strikes fear in everyone. But why should we be afraid?  There is a quote I like that reads, "Do not be afraid of tomorrow.  God is already there."  Those words should bring us some peace and comfort knowing that God knows what the plan is for us and wants to guide and protect us.  Sometimes what we must do is difficult, as Jesus discovered in the garden before His passion and death.  When we have faith, the end result is nothing short of a miracle.
The refrain of my grandfather's favorite hymn was, "Because He lives, I can face tomorrow.  Because He lives, all fear is gone.  Because I know, He holds the future.  And life is worth the living, just because He lives!"  To me, those are some of the most powerful words to hear.  God is always here for us.  He lets us make our own path but always guides us. Even when life becomes difficult, it is worth living, because our wonderful lives came from God!
Don't stop making your path in life.  Never be afraid of what will come next.  For if you have faith in God as your GPS guiding you, you will never get lost.
Have a wonderful and blessed Easter!