By Tony DeGol
Proclaim!
"We are Family" was the song and motto of 1979 Pittsburgh Pirates team.
All these years later, the Pirates "family" is alive and well and was on full display recently at Holy Name Parish in Ebensburg.
Former Pirates standout Neil Walker paid a visit and was greeted by a slew of adoring fans anxious to meet him and listen to his home run message.
Walker is a devout Catholic and former Catholic school student.
While he was with the Pirates, he helped make sure weekly Mass was celebrated for fellow Catholics on the team, as well as Catholics from visiting teams.
He is a good example of how an individual can thrive in the world of athletics and remain grounded in his Catholic roots.
"When you get into professional baseball, you have a lot of tough decisions that come along with being a professional and growing as a man, and the faith and foundation that I learned from a young age growing up in the Catholic Church was something that was really important to me," Walker mentioned during an interview with Proclaim! "I feel very fortunate that myself and my three siblings went to a Catholic school that instilled in us what we needed to grow as people."
Walker is no stranger to this part of Pennsylvania. He played for the Altoona Curve from 2006 to 2007 and again for a rehab assignment in 2013.
"I really enjoyed my time in Altoona," he assured. "It was a transition time in my career and also growing up as a man. I was also two hours away from home. I have a lot of great memories from this area."
Walker shared the joy of his faith with the crowd and fielded lots of great questions. Later, fans lined up for handshakes, photos, and autographs.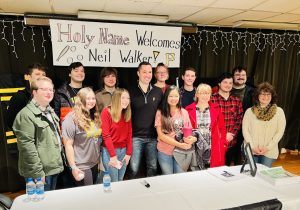 Among them was a great group of young Catholics from the Diocese of Altoona-Johnstown Catholic Campus Ministry at the University of Pittsburgh at Johnstown.
According to LaDonna McCrary, Director of Catholic Campus Ministry at UPJ, the students have been fans of Walker for years and could not resist getting a gang together to attend.
Walker did not disappoint, she insisted.
"I hope the students take away that faith is important, and not just on Sundays when you go to Church," she said. "One thing that Neil touched on was that his faith was important from high school on. When he grew up in Catholic education, he applied all of the things he learned and it helped in his decision-making in high school, college, and once he found his career path. I hope it instilled in them to rely on their faith as they go through life."
UPJ student Matthew Hoover, a parishioner at Prince of Peace in Northern Cambria, was among those on hand.
"I think it was wonderful to hear a professional baseball player – somebody who is admired and looked up to by children and people all across the region – speak about the importance of faith in his life," Hoover commented. "Obviously, it's very important to have your faith play a foundational role in everything you do, and I think it's beautiful that a professional and somebody who has a lot of influence came around to share that important role with everyone."
After his years with the Pirates, Walker played for several other Major League Baseball teams. He announced his retirement from professional baseball in 2021.
Despite his success on the diamond, Walker knows that faith, family, and personal responsibility are the real grand slams in life.
"I always try to tell young kids, whether they're baseball players or Catholic or non-Catholic, it's so important to know who you are to understand what you do well, but at the same time, you have to lean on God to get you through some of the tough times," Walker emphasized. "Sometimes leaning on others, leaning on your faith, and praying will help you make decisions a little easier. If your heart is in the right place and your mind is in the right place, you're going to get better results."
[Photo: (Top) Father Brian Warchola, Pastor of Holy Name Parish, gives a thumbs-up as Neil Walker holds a young fan in the crowd; (First Inset) Walker poses for a selfie- with Holy Name School principal Robin McMullen; (Second Inset) UPJ students enjoy some time with Walker; (Third Inset) Fans get autographs from Walker.]