By Tony DeGol
Proclaim!
As we try to balance spirituality and social distancing during these difficult days, add outdoor Stations of the Cross to the growing list of opportunities.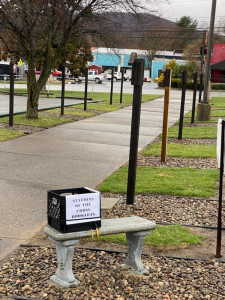 Saint Rose of Lima Parish in Altoona is inviting the faithful to take advantage of its outdoor Stations along the front sidewalk off of Sixth Avenue. The Stations were erected a few years ago as part of an Eagle Scout project by Sean Gibson and his family, parishioners of Saint Rose.
For the remainder of Lent, Father Brian Saylor, Pastor, is placing Stations prayer booklets by the sidewalk so folks can recall the Way of the Cross in the fresh air.
"We're just giving people the opportunity for a prayer experience," Father Saylor remarked. "They don't have to go into the church or worry about being around anyone."
At a time when the faithful cannot gather for the usual community praying of Stations inside parishes, the outdoor option is surely worth considering.
Saint Michael Parish in St. Michael also features outdoor Stations of the Cross on its property.
Father Brian Warchola, Pastor of Holy Name Parish in Ebensburg, fondly recalls the Stations from his time as Administrator of Saint Michael. His faith community would gather along the path for the prayer on Good Friday.
"To some degree, you feel like you're on the actual road to Calvary," he stated.
For those who have trouble walking, however, the terrain includes some hills. There are benches to rest and reflect. A 33' cross stands at the end of the path.