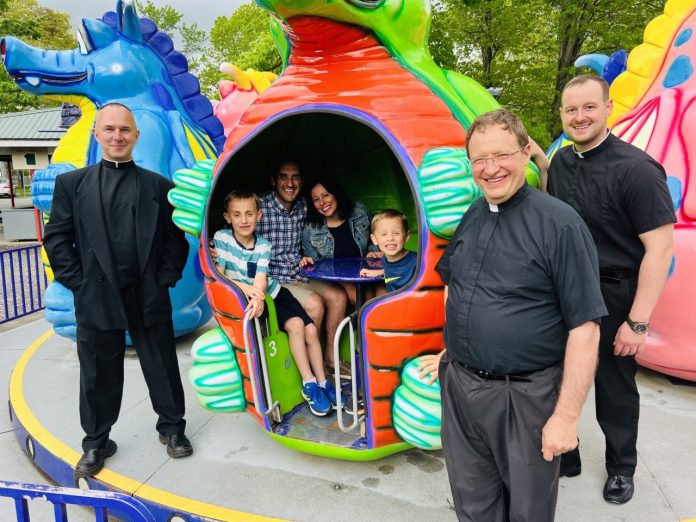 The Diocese of Altoona-Johnstown Faith Day is returning on June 25 at DelGrosso's Amusement Park in Tipton.
Come early and spend the day catching up with fellow Catholics from throughout the eight-county diocese. Celebrate our unity as a Diocesan Church in a fun and relaxing environment. 
Enjoy the rides and water park. Faith Day guests can save on all-day fun passes purchased at the part that day.
A highlight of the day will be Mass celebrated at 4:30 p.m. on the park stage celebrated by Bishop Mark. The liturgy fulfills the Sunday obligation. 
After Mass, engage in more fellowship and great food with a diocesan picnic in Pavilion 2. Guests may bring their own picnic food, or they may pre-order a DelGrosso's picnic supper through any parish or online at dioceseaj.org. Adult meals are $10; vegetarian meals are $9, children's meals are $8. Reservations for the DelGrosso dinners are required by June 17.
[Photo: Getting ready for Faith Day 2022 at DelGrosso's Amusement Park in Tipton are the Matt and Amanda Drumm Family of Sacred Heart Parish in Altoona, along with (left to right) Father Jozef Kovacik, Pastor of Saint Matthew Parish in Tyrone and Administrator of Saint Joseph Parish in Bellwood; the Very Reverend Alan Thomas, VG, Pastor of Saint Michael Parish in Hollidaysburg, Administrator of Saint Mary Parish in Hollidaysburg, and Vicar General for the Diocese of Altoona-Johnstown; and Father Michael Pleva, Administrator of Saints Peter and Paul Parish in Philipsburg and Parochial Vicar at Our Lady of Victory Parish in State College.]