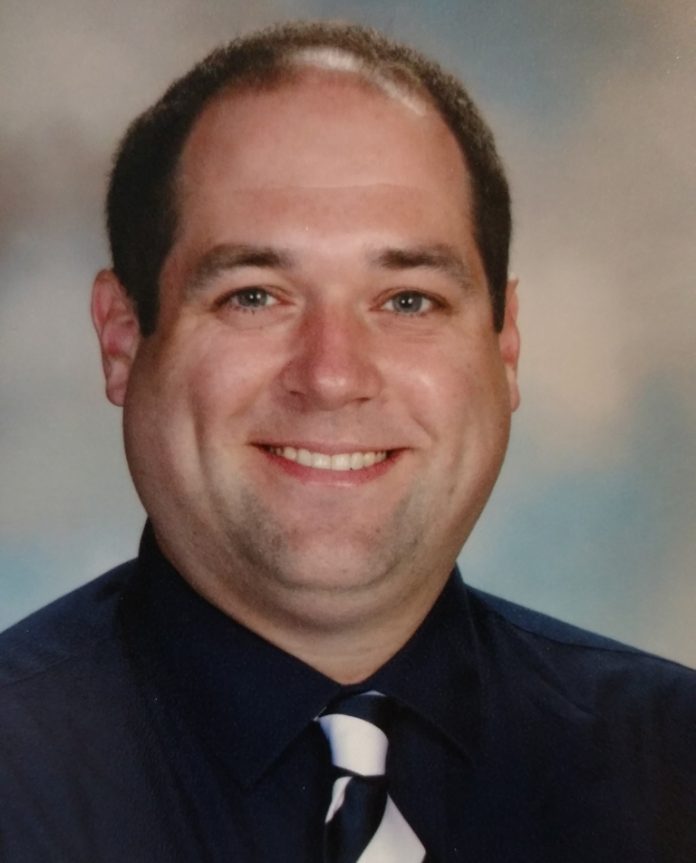 Column by Jonathan Nagy
Teacher and Dean of Students
Bishop Carroll Catholic High School, Ebensburg
"The important thing is not to stop questioning.  Curiosity has its own reason for existing." – Albert Einstein
Many of us have taken vacations by car.  Sometimes these trips can be long and torturous, especially if your childhood car trips were anything like mine – car packed to the brim and squeezed in the back seat with my two siblings for hours on end.  Usually not far into the trip, one of us would ask our parents any one (or more) of the following questions:  Are we there yet?  How much longer will it be?  Can we stop?  Why does it take so long?
Why do we ask questions like that?  Why do we ask questions at all?  Why am I answering questions with questions?  Well, we are curious people!  We want to know, like to know, and feel the need to want to know absolutely everything!  The ancient Greek philosopher, Socrates, even said that learning happens when questions are asked.  We ask a ton of questions and are each asked an equal amount of questions.
Some people see asking questions as a bad thing.  But why? (see, another question!)  When someone questions something, it is normally because they would like to find out an answer.  Some of the greatest discoveries of mankind have been accomplished because someone dared to ask a question.  It all begins with curiosity, and can lead to amazing results.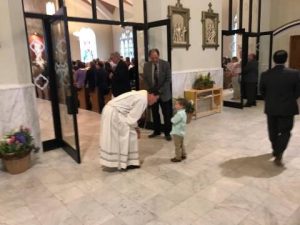 I adore my little nephews.  They are very inquisitive and smart, and they learn by asking questions.  My younger nephew, Griffin, knows everything you would want to know about trucks, equipment, and tools.  And he is only 3!  My older nephew, Jackson, who just turned 5 (Happy Birthday, Jackson!) is always watching YouTube videos on how to do things and asking questions.  This is one of my absolute favorite pictures of Jackson.  My brother took this picture last Easter, just prior to Mass.  While the conversation mostly consisted of Jackson talking about his Easter basket, he was taking the time to not only ask the priest questions, but also answer his.  And the priest took the time, mere moments before Mass began, to speak with my nephew.  This image just warms my heart for several reasons.  The pure innocence of a little child to carry on a conversation, the willingness of a compassionate priest to take time, even at the most inopportune moment, to speak with a child, and the beauty of doing it in the presence of Jesus, is all very inspiring to me.  We all can learn a lot from both Jackson and the priest.
We should never be afraid to ask questions nor put down someone for asking us questions.  Most questions are asked because someone wants to learn or genuinely cares about the person whom they are directing their questions towards.
But we should all learn patience.  Not every question has a simple answer.  Not everyone will be understanding in answering our questions.  Nothing happens when we want it to happen.  But that doesn't mean we should stop questioning and asking.  This goes beyond school!  One of my favorite, and funniest, quotes comes from Mark Twain when he said, "I never let my schooling get in the way of my education."  Life is an education.  Continue questioning and seeking answers and never stop.
When it comes to spiritual questions, let your faith guide you.  God answers questions and prayers in three ways: Yes, not yet, and wait, I have a better idea.  Keep praying and asking God for guidance.  He knows all and loves us and wants to take care of us.  And he never tires of being asked questions.  He likes to know that we think of Him often and are able to take our concerns to Him.  During this season of Lent, I hope that all of you find a way to have more of these deep conversations in prayer with God.  Praise Him, honor Him, promote Him, and do not be afraid to ask Him questions.  The answers may change your life!