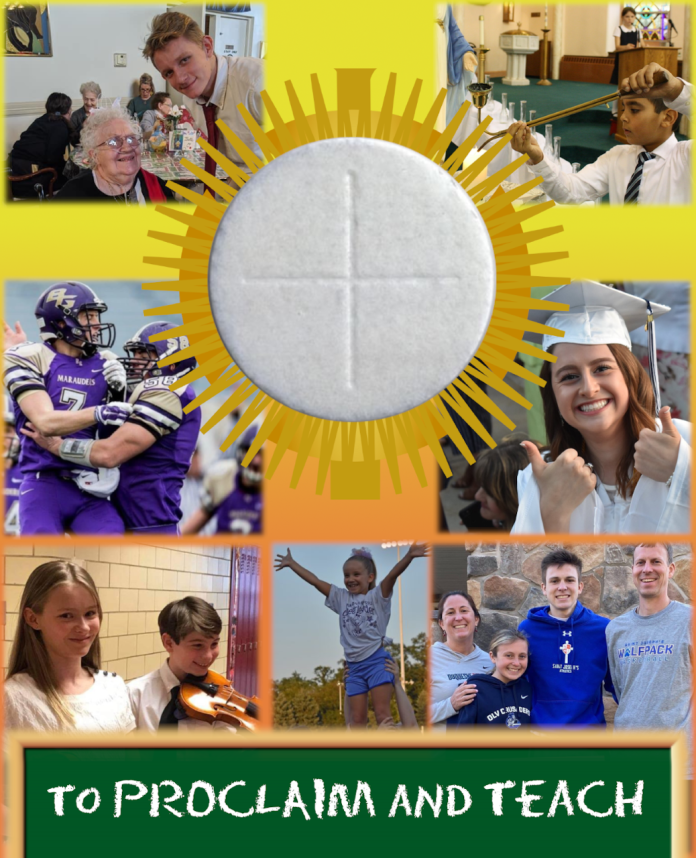 Over the past year, our Catholic schools throughout the Diocese worked to develop a strategic growth plan, laying out a path for a sustainable and vital future. "To PROCLAIM and TEACH" was envisioned, initiated, and sponsored by the Independent Catholic Foundation, which was looking to ensure strong Catholic school education for the next 10 years and beyond.
Following a process that engaged leadership among all of the schools, numerous stakeholders were engaged to bring their vision, hopes, and insights to shape the goals and direction for the future. The plan focuses on the key elements of "The National Standards and Benchmarks of Effective Catholic Elementary and Secondary Schools," which are strong Catholic mission and identity, effective governance, and leadership, academic excellence, and operational vitality (enrollment management, development, facilities, finances). Specific goals and action steps to achieve the goals have been developed in each of these areas.
While the plan provides a path forward for all of the schools, it allows for distinctive implementation within the different geographic areas where the schools are located and for the individual schools as well. In this way, local needs can be met within the context of a diocesan vision. It should be noted that this plan is a "living document" in that some goals and action steps are already being implemented in some schools or areas, and that an annual review of the plan would allow for changes in the goals and action steps as needed moving forward.
To assist in the creation of the strategic growth plan, a Steering Committee was established to serve as an advisory group to the Bishop during the process and consisted of diocesan leaders. A Planning Task Force served as the working group of the process and represented diocesan, school, parish, and school board/advisory council leadership.
Having progressed through several steps of consultation, input and feedback, a final draft of the plan has been submitted to Bishop Bartchak for his review and approval. Once approved, the strategic growth plan will be able to follow an implementation schedule as the schools bring the plan to life within their communities.
We thank all who participated in the planning process and prayed for its success. We pray that it will continue to provide a vision and path to ensure vitality and sustainability for Catholic school education in the Diocese of Altoona-Johnstown.