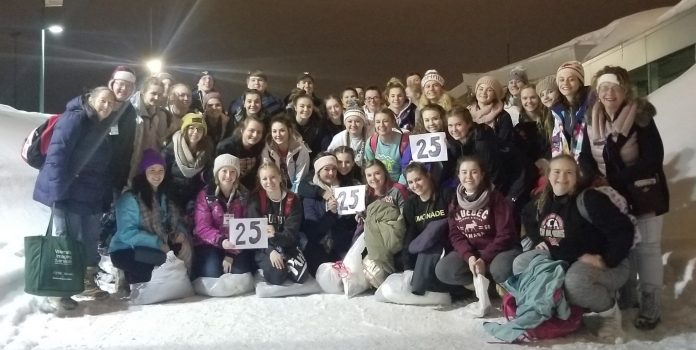 On April 25, Bishop McCort Catholic High School (BMCHS) will be challenging its alumni and friends for the fifth time to support a 24-hour Scholarship Funding Day event by giving $25 (or more) to raise money for financial aid for students at 25 Osborne Street. By holding a "crowdfunding" event like this, BMCHS joins many other schools, universities and nonprofit organizations that realize the power of participation from many members of the community adds up to make a great impact during a day-long concentrated giving campaign.
In 2018, 268 donors from 27 states and Canada contributed more than $26,000 to the fourth annual Scholarship Funding Day. Following what has become a tradition; donors were challenged to meet three (3) unique challenges–which they did! This year, McCort's supporters are challenged again to:
Secure a $10,000 matching grant from a generous alum by donating $10,000, 
Have more members from their graduating class donate than any other class and be recognized on the Challenge Cup trophy, and 
Send a donation from the furthest geographic point to 25 Osborne Street to earn a prize.
Last year's winning donation came from North Pole, Alaska, which will be hard to beat!
Starting at midnight on April 25, alumni, parents, and friends throughout the country are invited to donate $25 (or more) to support Scholarship Funding Day. Proceeds from the day will be exclusively directed to student financial aid. BMCHS is reaching out to existing contributors and those who will be giving for the first time to donate on the internet at www.mccort.org, by mail or by phone to 814-248-3885. Organizers hope donors will then reach out to their friends via social media venues and encourage them to give as well.
"25/25/25 is an exciting way for the McCort community to come together and help our students," said BMCHS Principal/CAO, Thomas P. Fleming, Jr. "Last year, our donors contributed a record of more than $26,000 to support the 65% of our students who need financial assistance to receive a quality Catholic preparatory education. Our goal this year is to exceed that amount. A funding day event shows the power of many small personal donations making a huge impact."